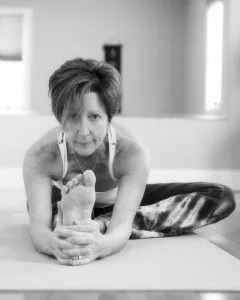 MAUREEN draws from her various backgrounds, which include: ballet dance, aerobic instruction, personal training, weight lifting and long-distance running. All of which have been part of her journey to and with yoga. As with many, injury brought Maureen to a yoga studio more than twenty years ago. Her quest still continues as she not only teaches yoga but continues to be a faithful student.
Maureen brings her unique style of teaching to her studio community. Where her honest and direct approach to yoga encourages student teacher interaction. Always entertaining, always educating. Maureen has focus on making yoga accessible to a broad range of people. "I think yoga is almost becoming an elitist sport, but not here."
Maureen's Certification include: Yoga as Medicine Level I, with Dr. Timothy McCall. Yoga-Fit, Hot Vinyasa Flow with Jimmy Barkan, Levels Two and Three and a graduate from the Yoga School "Finding Inner Peace". Maureen is a Registered and Certified Yoga Teacher and has been teaching for eighteen years. She has also served on the Faculty of Namah Shivaya, a 200 hour Teacher Training and Breathe Joy Yoga, a 200 hour Teacher Training. Maureen's Chair Yoga is endorsed by Dr. Lawrence McAuliffe Chief of Cardiology at Cape Cod Hospital. In addition, Maureen is Serv-Safe Certified and is a self taught Chef. Mindful Menus, is based on clean eating and whole foods. Look for Yoga and Organic Buffets in the studio or book one in your home or office.
"I think what sets me apart is I have more of a therapeutic approach. It's very personal, but not in an intrusive way. I want to offer yoga to everybody, not just somebody…"
---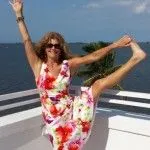 PAULA took her first yoga class in 1974 and has been practicing continuously since then. She received her 200-hour RYT certification through Transcend Yoga with Scott Feinberg at Shimmering Pines in Jupiter Florida. Her classes are based largely on intuition, creating a welcoming non-competitive environment to bring your body and mind into the Flow of Breath and Bliss….for a journey of self discovery. She is very connected to the elements and enjoys adding nature's ambiance into her class believing that by finding peace within ourselves through yoga and other practices, we can bring peace to the world. Her classes incorporate physical postures with proper alignment, breath work, flexibility, balance and deep relaxation, while encouraging your awareness of healing the body through movement. Paula appreciates the opportunity to share energy, peace and light with everyone in her classes. Paula will always be with us. We miss you. Rest In Peace Our Dear Friend.
---
TRACY began a practice several years ago to combat occupational stress, create balance and delve into the mind, body and spirit connection. Tracy 's background includes, personal trainer, group fitness instructor and health club manager. In addition, 18 years in the high stress and fast paced mortgage industry at the management level. Now, a "Kind Yoga" graduate, Tracy specializes in meditation and relaxation, she shares her experience with our community. Tracy encourages her students to do what inspires them and realizes that we are all different with different goals. Co-Founder of "Calm Warrior", which specializes in providing criminal justice professionals with stress reduction tactics.
Tracy remains with us from her sunny home in Florida !!!